For all excursions it is necessary to follow the instructions of the guide.
It is not allowed to keep with you the following articles: mobile phone, any type of camera.
In all premises there is absolute no-smoking-rule
Excursion A: Sandoz Kundl, Grassmayr Bell Museum and Berg Isel
full day / 8.00 – 17.00 – For this excursion you need compact shoes!
Welcome to Sandoz in Kundl!
We are delighted to welcome you to Sandoz, one of the world's biggest providers of patent-free drugs. We – over 23,000 employees in 130 countries – have dedicated ourselves to healthcare. We develop, produce and market high-quality, low-cost generic drugs. Sandoz is the generics division of the Swiss pharmaceutical company Novartis. The largest development and production facility (3000 employees) in the entire Sandoz Group is located right here in Kundl. The Kundl facility is also one of the biggest manufacturers of antibiotics and the last remaining fully integrated producer of penicillin in the western world: Annually, more than 170 million packets of medicinal products leave the Kundl facilities. We pursue innovative approaches in order to improve our patients' quality of life. Our decades of expertise in the field of biotechnology are now a key factor in our success with an entirely new generation of drugs, known as biosimilars. We are a pioneer and market leader for these biotechnologically-derived follow-on drugs. Sandoz is the only company in Europe to hold licenses for three biosimilars. We produce two of these, namely Omnitrope® and Zarzio®, in Kundl and at our second Tyrolean production facility in Schaftenau. Our clients have faith in the quality of Sandoz. We are acutely aware of this responsibility, and as such an emphasis on quality is one of our centralcorporate values.
Company Presentation: Company Movie Sandoz GmbH
Plant tour: Audioguidetour in groups of 15 persons
Fermentation: Production of pharmaceuticals in huge steel tanks.
Pharma Production Cefalosporine: Production of tablets, capsules and liquids (you have the possibility tosee a sterile filling room / cleanroom through the window)
Warehouse logistics: You will get an impression of our warehouse system Purification: In this productionstep, the substance must be recovered from the fermentation broth. (you will wear overshoes and a coat andyou are allowed to enter a zone to see our purification process)
Grassmayr Bell Museum
At the museum you can experience the entire evolution of bells, their development in the culture of the western world and the secrets of the bell casting guild.
The Bell Museum is a unique combination of bell foundry, bell museum and a sound room. On the basis of past experience, we are certain you will consider your visit a genuine adventure. We recommend allowing yourself approximately one hour for your visit.
All over the world – in nearly 100 countries – bells from Grassmayr Bell Foundry in Tyrol can be heard tolling. The Grassmayr family has been casting bells for the whole world for 14 generations. It has 400 years of experience, history and tradition to build upon.
Berg Isel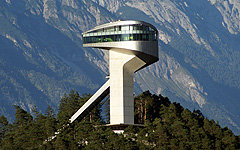 Towering high above Innsbruck on the wooded Bergisel Hill, the brand-new Bergisel Ski Jump is asight to behold.
The hill itself is a historic site, scene of the 1809 battles in which Andreas Hofer led some Tyrolean peasants against French and Bavarian forces in the Tyrolean War of Independence.
The first ski jump was erected here in the year 1925. Reconstruction plans have been discussed widely. Finally, Iraqi-born and London-based star architect Zaha Hadid won the related architectural competition and designed the spectacular new skijump. The Tower stands 47 meters tall and provides spectacular views. The new facilities now can hold 28,000 spectators. Each year, the refurbished Bergisel Stadium plays host to the annual Four Hills Tournament in January and to a Summer Grand Prix Jumping Event. All Bergisel Stadium facilities, including gondola, elevator, panoramic café, andvantage spot on the jumping platform are open to visitors. From the stylish Restaurant there are uninterrupted panoramic views of the lofty surrounding peaks of Patscherkofel, Nordkette, Hohe Munde and Serles.
Excusion B: Adler Lacke, Schwazer Silver Mine and Swarovski Crystal Worlds
full day / 8.00 – 17.00 – For this excursion you need compact shoes!
ADLER – paint runs through our veins!
The ADLER-Werk Lackfabrik (paint factory) is an independent Tyrolean family business continuing to expand. During the previous year, the 490 workers – almost one in four whom is employed in development and application technology – proudly achieved an annual turnover of 90 million euros. The company exports to 17 countries and has successfully increased its export share from 46 % in 2012 to 54 %. It is regarded as an Austrian leader and has also received multiple awards for its traineeship programmes.
Every year, approximately 15,000 tons of varnish leave the paint factory in Schwaz and reach customers in more than 25 countries worldwide. Nearly half of the production is exported, with Germany and Italy being the main export markets. But also in Switzerland, Poland, Slovakia, Czech Republic, France, Greece and many other countries ADLER is very active. The focus of strategic thinking is placed on Austria as it is the domestic market with the central production site.
Service support centres and storehouses in some towns in Austria, Germany and Switzerland make it possible that all orders can be delivered within 24 hours.
ADLER's customers include carpenters, furniture and window manufacturers, but also painters and handymen. In the sectors of furniture varnishes and window coating systems, as well as in the do-it-yourself sector, ADLER can assert its market-leading position in Austria. Products for handymen are sold by 190 specialist paint shops in Austria - the ADLER Farbenmeister.
Already more than two thirds of ADLER's approximately 10,000 articles are produced on a water-thinnable basis. That ADLER does not only pay lip service to environmental protection but is proved by new ecological products as well as by numerous awards and certificates for which ADLER regularly undergoes rigorous controls. Innovation and research are therefor most important. That's why more than 100 ADLER employees are engaged in R & D.
Company Presentation: Meet & Greet at the Porters'Lodge
Screening of the ADLER film in the training center
Start of the factory tour
Schwazer Silver Mine
The Schwaz Silver Mine opens a gate to an experience of the middle Ages for old and young…
Schwaz was at 1500 during its heyday, the largest mining industry town of the then known world.
About 85% of the worldwide silver production came from Schwaz. This was the base for might and politics at that time in Europe….
The 90 minutes tour shows you the hard life of underground mining 500 years ago and allows taking a look at the role Schwaz played on the scene of the Medieval world.
Please consider that the constant temperature inside the galleries is at 12°C (54 °F). We recommend proper shoes as well as warm clothing.
You have also time to visit the beautiful silver shop. There you can find precious silver jewellery, minerals and lovely souvenirs on over 200 square yards.
If you want you can even try to create your own silver coin at our shop.
Swarovski Crystal Worlds - A new era of wonder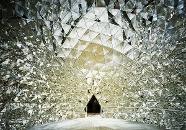 Countless new facets in the Swarovski Crystal Worlds: The redesign of this extraordinary tourist destination, which will be reopened on this occasion in May 2015, represents the largest expansion of the crystalline world of experience to date. Working in collaboration with artists from throughout the globe and internationally renowned architects, a park landscape is emerging on 7.5 hectares of land surrounding the iconic Giant, with unparalleled art installations and new structures.
The chambers of wonder: Even the inside of the Giant will experience rejuvenation over the course of the expansion. Five of the total 14 Chambers of Wonder will be restaged by extraordinary artists.
Excusion C: Plansee Group
full day / 8.00 – 15.00 – For this excursion you need compact shoes! Please note that the bus transfer takes approx. 2 hours in either direction!

Molybdenum and Tungsten: Strong metals for a high-tech world
The Plansee Group is an international high-tech company based in Reutte, Austria. It spans the three divisions Plansee High Performance Materials, Global Tungsten & Powders (GTP) and Ceratizit Hard Metals & Tools and has a stake of 20 percent in the molybdenum processor Molymet. Employing some 6,060 people in production and sales companies in 50 countries, the Plansee Group supplies customers with products made out of molybdenum and tungsten - high-tech materials able to withstand extreme thermal, mechanical and chemical stresses.
The Plansee Group is one of the world's leading suppliers of Molybdenum and Tungsten – from powder production through powder-metallurgical processes to the customers-specific processing and recycling of these materials. Where – and in what form – our materials are used, and which properties they have, is usually defined by our customers, who operate in a variety of advanced industries: automotive, energy, electronics, semiconductors and medical engineering.